27.12.2016 | Original Paper | Ausgabe 7/2017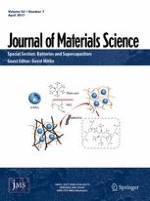 MOCVD growth and characterization of vanadium dioxide films
Zeitschrift:
Autoren:

L. V. Yakovkina, S. V. Mutilin, V. Ya. Prinz, T. P. Smirnova, V. R. Shayapov, I. V. Korol'kov, E. A. Maksimovsky, N. D. Volchok
Abstract
High-quality vanadium dioxide (VO
2
) films were synthesized on sapphire and silicon substrates by metal–organic chemical vapor deposition. Optimal growth conditions for obtaining abrupt and reversible semiconductor–metal phase transition of VO
2
were found. X-ray diffraction, Raman scattering spectroscopy, and scanning electron microscopy measurements suggested that grown VO
2
films have high crystal quality. It was shown that, at a fixed proportion between the rates of the oxygen and argon flows in the reactor and at a substrate temperature in the range of 440 ≤
T
≤ 470 °C, the monoclinic phase of VO
2
formed in the deposited films. The films grown on sapphire and silicon substrates were found to have an underlying conducting transition layer forming ohmic back contact to VO
2
film. The presence of such back contact layer has allowed us to form VO
2
-based vertical devices. In such structures, VO
2
films have shown conductivity changes up to four orders of magnitude due to the phase transition. This demonstrates the high quality of grown films without post-deposition annealing.