2017 | OriginalPaper | Buchkapitel
Model Based Dialogue Control for Smartwatches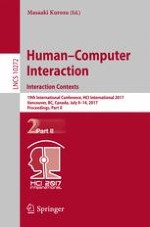 Erstes Kapitel lesen
Autoren: Rainer Lutze, Klemens Waldhör
Abstract
The presented approach solves the problem of organizing a well-structured dialogue between a smartwatch wearer and a
health assistance app
running on the smartwatch. Especially for emergency situations, when the app has concluded the presence of
several
threatening health or security hazards. Such situations require an effective,
joint
handling of all acute health and security hazards in
one
combined dialogue. Otherwise, the
domain specific knowledge
for concluding present hazards has been isolated deliberately into
separate
units for efficient maintenance and comprehensibility. It is represented in a declarative way by finite state machines. A multitude of such finite state machines will be executed simultaneously in the app for monitoring
all
relevant potential health and/or security hazards. Furthermore,
the tactical knowledge for dialogue handling
of concluded hazards is represented independently from the
domain specific knowledge
by "
c
ritical
d
ialogue
s
ections", CDSs. A CDS has an internal activity structure for controlling the dialogue with the smartwatch wearer in order the handle the concluded hazard. During the execution of a CDS, the smartwatch I/O and communication devices are exclusively attached to the CDS. Effective handling of such concluded hazards does typically include to establish a speech connection with distant family members or a home emergency call center. This can be achieved via the integrated cellular phone of the smartwatch. The selection of the situationally most appropriate hazard for handling is done via a central scheduler utilizing a blackboard. Our application framework relieves the software developer from dealing with the details and obstacles of effective dialogue implementation and allows to focus on the domain specific knowledge and handling logic of the assistance app.