2019 | OriginalPaper | Buchkapitel
Model-Based Optimization for Operating the Ethiopian Renaissance Dam on the Blue Nile River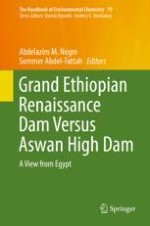 Erstes Kapitel lesen
Autoren: Abbas M. Sharaky, Khaled H. Hamed, Ahmed B. Mohamed
Abstract
Ethiopia has proposed different plans and conducted studies for dam projects on the Blue Nile, but the storage capacity required for such large dams is much higher than the capability of the Blue. Ethiopia unilaterally announced its plan to build the Grand Ethiopian Renaissance Dam (GERD) on the Blue Nile at the very same location of the Border Dam. It increased the storage capacity from 11.1 to 74 billion cubic meter (BCM), which represents 1.5 times the annual flow of the Blue Nile at the Sudanese border and produces 6,450 MW of hydropower. The dam will have negative impacts on the downstream countries, especially shortage in water supply and hydropower generation during filling and operation.
The main purpose of this chapter is to develop a methodology using the GERD-AHD SIM model to determine the best operating policy for the Renaissance Dam on the Blue Nile that achieves minimum impact on the Aswan High Dam (AHD). The main objectives should be achieving a minimum water deficit in the downstream and a maximum power generation from both GERD and AHD.
The results of the model were tabulated and analyzed using the mentioned criteria to obtain the best long-term regulation policies for GERD. The main two factors that affect the management of AHD due to the regulation policy of GERD are the annual total water deficit downstream AHD and the generated energy from AHD. Those two evaluating factors were taken as the most critical criteria for arranging and choosing the best scenarios based on the results of the model.
Different scenarios were selected and tested. Each scenario has the following inputs: the initial levels of both GERD and AHD, the average AHD level, the average inflow to AHD, the annual evaporation of AHD and GERD, the energy produced from the two dams, the maximum water deficit downstream AHD, the number of water deficit downstream AHD, the number of shutdowns of AHD hydropower station, and the total water deficit.
It is clear that the cooperative management scenarios which preserve water storage in GERD for the need of the downstream countries represent the best regulation scenarios. Comparing cooperative and noncooperative scenarios shows this fact explicitly.