2021 | OriginalPaper | Buchkapitel
Model-Based Threat Modeling for Cyber-Physical Systems: A Computer-Aided Approach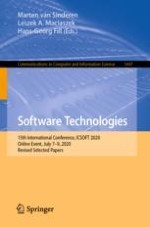 Erstes Kapitel lesen
Autoren: Monika Maidl, Gerhard Münz, Stefan Seltzsam, Marvin Wagner, Roman Wirtz, Maritta Heisel
Abstract
Harming the security of a Cyber-Physical System (CPS) can lead to substantial damage and endanger for life because such a system includes many devices that interact with the physical world. Following the principle of security-by-design, the consideration of security should take place as early as possible during software development. However, the current state of the art often lacks systematic documentation of possible threats, and the identification of all relevant threats is not a trivial task.
In previous work, we presented a taxonomy of relevant attack actions for CPSs. The distinguishing feature of the taxonomy is its two-dimensional structure. We map typical attack actions to the attack surface. The attack surface is described by the component's interfaces which can be misused by attackers to gain access to a component, thus potentially harming the security of the system. On top of this taxonomy, we described an example of an attack action catalog. The application of our taxonomy and the attack action catalog still requires manual effort from practitioners, e.g. when looking up relevant attack actions.
Therefore, we developed a tool based on our taxonomy which we present in the present paper. In a first step, we formalized our taxonomy in form of a metamodel. Each threat model is an instance of that metamodel. The metamodel reflects the way in which the taxonomy links attack actions with parts of the system. Furthermore, we created a graphical editor that assists practitioners in creating the threat model. Based on the taxonomy's metamodel and attack action catalogs, the tool pre-filters relevant attack actions and allows to systematically document them in the threat model. Our tool provides different views on the threat model, thus helping to focus on the relevant aspects for a specific task.