25.01.2019 | Ausgabe 6/2019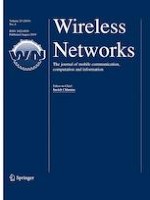 Model of adaptive WiMAX network incorporating diverse transforms
Zeitschrift:
Autoren:

Lavish Kansal, Vishal Sharma, Jagjit Singh
Wichtige Hinweise
SBSSTC, DAVIET: Affiliated to IKG Punjab Technical University, Jalandhar, Punjab, India.
Publisher's Note
Springer Nature remains neutral with regard to jurisdictional claims in published maps and institutional affiliations.
Abstract
Recent advancements in mobile Worldwide Interoperability for Microwave Access (WiMAX) standards have led to the development of more reliable, robust and efficient broadband networks that can provide access for both fixed and mobile users. The physical layer of a WiMAX network is composed of orthogonal frequency-division multiplexing (OFDM) technology, which allows it to provide elevated data rates with minimum distortion in fading environments. However, the presence of interference affects the orthogonality of the OFDM sub-carriers, which increases the probability of network errors. The error probability can be reduced by increasing the output power level at the expense of an elevated peak-to-average power ratio (PAPR). In this work, discrete wavelet transforms (DWTs) and fractional Fourier transforms (FrFTs) are used to augment the reliability and efficiency of an adaptive WiMAX system. The results show considerable improvements in both bit error rate (BER) reduction and spectral efficiency enhancement at a given signal-to-noise ratio (SNR). In addition, a significant PAPR reduction is attained when the DWTs and FrFTs are used in place of fast Fourier transforms. Moreover, the proposed adaptive algorithm realizes a spectral-efficient WiMAX system that enables the system to select the suitable transform strategy (DWT/FrFT) with minimum SNR requirements to achieve the target BER of 10−4.