2018 | OriginalPaper | Buchkapitel
Model Synchronization and Concurrent Simulation of Multiple Formalisms Based on Reference Nets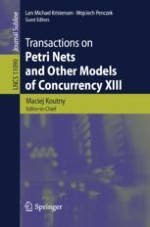 Erstes Kapitel lesen
Autoren: Pascale Möller, Michael Haustermann, David Mosteller, Dennis Schmitz
Verlag: Springer Berlin Heidelberg
Abstract
Nowadays, modeling complex systems requires a combination of techniques to facilitate multiple perspectives and adequate modeling. Therefore, UML and other formalisms are used in combination with Petri nets. Often the different models are transformed into a single formalism to simulate the resulting models within a homogeneous execution environment. For UML, the mapping is usually done via the transformation to some programming language.
Anyhow, the problem with generative techniques is that the different perspectives that are provided by the applied modeling techniques can hardly be retained once the models are transformed into a single formalism. In this contribution we elaborate on how multiple formalisms can be used together in their original representation.
One of the main challenges for our approach is the provision of means for coupling mentioned formalisms so they can be executed together. We utilize the synchronization features of Reference Nets to couple multiple modeling techniques. Therefore, we present an approach to transform modeling languages into Reference Nets, which can be executed with the simulation environment R
enew
. The simulation events are forwarded to the original representation in the form of graphical user feedback and interaction.
This results in a simultaneous and concurrent execution of models featuring a combination of multiple modeling formalisms. A finite automata modeling and simulation tool is presented to showcase the application of our concept. Based on our results, we present a case study that utilizes finite automata in combination with Reference Nets and activity diagrams.