16.11.2017 | Methodologies and Application | Ausgabe 6/2019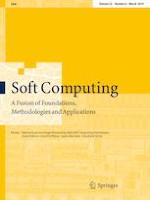 Modeling and comparison of the series systems with imperfect coverage for an unreliable server
Zeitschrift:
Autoren:

Ching-Chang Kuo, Jau-Chuan Ke
Abstract
In this paper, we investigate the availability of two different series system configurations with imperfect coverage, where an unreliable server is responsible for maintaining the system. The primary and standby components are included in both series system configurations. The time-to-failure of the primary and standby components are exponentially distributed. When the server is repairing, it is subject to random breakdown. The time-to-breakdown of the server is assumed to have exponential distribution. The standby components will substitute for the primary components whenever the primary components fail. The recovery from standby to active is imperfect. The coverage factors for primary component failure and for standby component failure are assumed to be the same as
c
. The repair time of the failed components and the repair time of the breakdown server are generally distributed. Further, we implement a practical model with two different repairable system configurations. By supplementary variable technique, we derive the steady-state availability of these two different series system configurations. Finally, we compare the cost/benefit ratio between two configurations and the availability in the different pairs of the component's repair time and server's repair time distributions.