01.06.2011 | Ausgabe 11/2011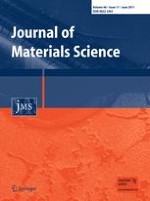 Modeling and preparation of a super-oleophobic non-woven fabric
Zeitschrift:
Autoren:

Hoon Joo Lee, Colin R. Willis, Corinne A. Stone
Abstract
A super-oleophobic surface has been achieved by satisfying two conditions: a properly designed surface morphology and a low surface energy. A meta-stable Cassie–Baxter model has been used to account for the super-oleophobic effect with a truly random rough surface such as hydro-entangled non-woven fabric. In this model, a high contact angle is obtained by a minimum of surface energy due to air pockets inside the rough structure. Apparent dodecane contact angles of greater than 150° were measured on a hydro-entangled, non-woven nylon fabric whose fibers had been modified using a pulsed plasma discharge containing 1
H
,1
H
,2
H
,2
H
-perfluorodecylacrylate (PFAC8). Good agreement between the predicted and measured contact angles was obtained using the meta-stable Cassie–Baxter model.