13.10.2016 | Ausgabe 12/2016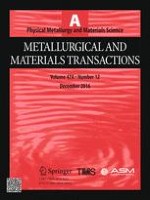 Modeling Hardenable Stainless Steels Using Calculated Martensite Start Temperatures in Thermodynamic Equilibrium Calculations
Zeitschrift:
Autoren:

Merlin Seifert, Werner Theisen
Wichtige Hinweise
Manuscript submitted July 21, 2016.
Abstract
In this work, martensite start temperatures of several martensitic stainless steels containing different amounts and types of carbides were calculated by means of thermodynamic equilibrium calculations. Two different equations were introduced into the Thermo-Calc® software. The calculations were performed for the respective compositions at austenitization temperature and compared to martensite start temperatures measured using a quenching dilatometer. The purpose was to estimate hardenability and hardness of newly developed steels. Even though the equations used were determined empirically for specific alloying systems, general trends for the investigated steels were found to be reproduced very well. Thus, the comparison of martensite start temperatures of different steels in comparable alloying systems is highly effective for modeling new steels and for predicting their hardenability.