2013 | OriginalPaper | Buchkapitel
Modeling of Aerodynamics in Vortex Furnace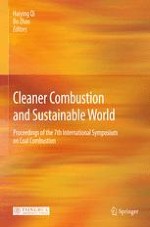 Erstes Kapitel lesen
Autoren: I. Anufriev, V. Salomatov, Y. Anikin, D. Krasinsky, O. Sharypov, Kh. Enkhjargal
Verlag: Springer Berlin Heidelberg
Abstract
At present, the torch burning technology of pulverized-coal fuel in vortex flow is one of the most prospective and environmentally-friendly combustion technologies of low-grade coals. Appropriate organization of aerodynamics may influence stability of temperature and heat flux distributions, increase slag catching, and reduce toxic emissions. Therefore, from scientific point of view it is interesting to investigate aerodynamics in the devices aiming at justification of design and operating parameters for new steam generators with vortex furnace, and upgrade of existing boiler equipment. The present work is devoted to physical and mathematical modeling of interior aerodynamics of vortex furnace of steam generator of thermal power plants.
Research was carried out on the air isothermal model which geometry was similar to one section of the experimental- industrial boiler TPE-427 of Novosibirsk TPS-3. Main elements of vortex furnace structure are combustion chamber, diffuser, and cooling chamber. The model is made from organic glass; on the front wall two rectangular nozzles (through which compressed air is injected) are placed symmetrically at 15° to the horizon. The Laser Doppler Velocimeter LAD-05 was used for non-contact measurement of vortex flow characteristics. Two velocity components in the XY-plane (in different cross- sections of the model) were measured in these experiments. Reynolds number was 3·105.
Numerical simulation of 3-D turbulent isothermal flow was performed with the use of CFD package FLUENT. Detailed structure of the flow in vortex furnace model has been obtained in predictions. The distributions of main flow characteristics (pressure, velocity and vorticity fields, turbulent kinetic energy) are presented.
The obtained results may be used at designing boilers with vortex furnace. Computations were performed using the supercomputer NKS-160.