2006 | OriginalPaper | Buchkapitel
Modeling of solid state transformations using a phase field model with transformation plasticity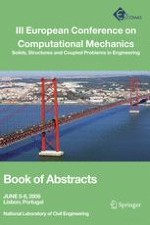 Erstes Kapitel lesen
Autor: S. Benke
Verlag: Springer Netherlands
The evolution of the morphology of a second phase during solid state transformations is influenced by various factors like the degree of the misfit strain, distribution of the precipitates, anisotropy and inhomogeneity of the stiffness, interfacial energy, diffusion of solute atoms and others. From experimental observations it is well known that the evolution of a solid-state phase transformation in a stressed metal induces plastic deformation, even for very small applied stresses. Two transformation mechanisms can be distinguished: the transformation dilatation leading to a volume change (Greenwood-Johnson mechanism) and the martensitic transformation which results additional in shape changes (Magee effect). In the present contribution we focus our attention to volumetric phase transformations in low carbon steels caused by a diffusion controlled growth of ferrite in an austenitic matrix. The microstructural evolution is simulated by the use of a multi-phase field model which is based on the diffuse interface theory [
1
]. The model combines the diffusion of the species which defines the time scale, the curvature of the interfaces which defines the length scale and phase diagram information as well as the mechanical strain energy which both represent the energy scale.
For the solution a combination of finite difference and finite element methods is used. The evolution of the microstructure is calculated with the software MICRESS [
2
] which solves the system of equations consisting of phase field equations and the diffusion equation using a control volume approach. MICRESS is coupled to a nonlinear finite element code which solves the mechanical subproblem and passes back the mechanical part of the driving force of the phase transformation in a staggered way within the solution procedure. From a mechanical point of view both phases are assumed to behave elasto-visco-plastically and the material properties in turn vary with the phase field parameters which describe the evolution of the microstructure.
Using this model the influence of the strain energy on the γ — α transformation in a low alloyed carbon steel is studied. During the phase transformation the evolution of the inelastic strain due to creep and relaxation effects is tracked and the effect of different external loadings on the developed morphology is investigated.