01.10.2016 | Original Article | Ausgabe 2/2016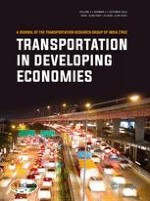 Modeling
Seepage

Behavior of Smaller Vehicles in Mixed Traffic Conditions Using an Agent Based Simulation
Zeitschrift:
Autoren:

Amit Agarwal, Gregor Lämmel
Abstract
Seepage
is an important yet rarely modeled or quantified phenomenon in mixed traffic streams. It describes situations where smaller vehicles do not line up but rather "seep" through a queue of stationary or almost stationary vehicles. This contribution introduces
seepage
into an agent-based transport simulation model. In order to allow vehicles to seep, the traditional first-in-first-out queue model is modified such that in the free flow regime, faster vehicles can overtake slower vehicles and in the congested regime, slower vehicles can overtake faster vehicles. The model is validated with the help of fundamental diagrams. Its sensitivity is investigated by comparing the impact of different shares of smaller vehicles on the speed-density relation in the mixed traffic streams. A case study of the evacuation of Patna, India under mixed traffic conditions with
seepage
demonstrates the overall approach.