01.05.2019 | Original Article | Ausgabe 9/2019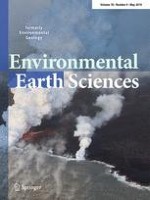 Modeling shallow groundwater nitrate concentrations by direct coupling of the vadose and the saturated zone
Zeitschrift:
Autoren:

Gerhard Rock, Hans Kupfersberger
Wichtige Hinweise
Publisher's Note
Springer Nature remains neutral with regard to jurisdictional claims in published maps and institutional affiliations.
Abstract
In many aquifers in plains and valley basins, water movement and solute fate in the vadose zone is described without considering the actual depth of the groundwater table. However, for shallow groundwater conditions (i.e., when the water table is few meters below the ground surface), there is a feedback from the groundwater table on the soil moisture content which influences plant growth and evapotranspiration. Thus, an interactive coupling between vadose zone and groundwater processes is needed. In this research the implementation of a time step-based (direct) coupling between the soil water movement and nitrogen fate model SIMWASER/STOTRASIM and the groundwater flow and solute transport model FEFLOW is shown and applied to a part of an aquifer in southeast Austria. At the aquifer scale, areas with time step-based coupling are combined with areas of sequential coupling to account for shallow groundwater levels. To speed up the computation of vadose zone processes, a clustering approach is developed by grouping elements of similar groundwater level and nitrate concentrations time series together. Through the comparison between direct and sequential coupling results, it is demonstrated that including the feedback in the coupling reduces simulated nitrate concentrations by about 10%. Thus, if shallow groundwater conditions exist, the time step-based approach allows considering the interaction between vadose and saturated processes, which may lead to improved compromises between agricultural land use and groundwater protection.