01.07.2015 | Ausgabe 3/2015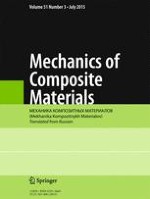 Modeling the Tensile Behavior of Cross-Ply C/SiC Ceramic-Matrix Composites
Zeitschrift:
Autoren:

L. B. Li, Y. D. Song, Y. C. Sun
Wichtige Hinweise
Russian translation published in Mekhanika Kompozitnykh Materialov, Vol. 51, No. 3, pp. 505-530 , May-June, 2015.
The tensile behavior of cross-ply C/SiC ceramic-matrix composites (CMCs) at room temperature has been investigated. Under tensile loading, the damage evolution process was observed with an optical microscope. A micromechanical approach was developed to predict the tensile stress–strain curve, which considers the damage mechanisms of transverse multicracking, matrix multicracking, fiber/matrix interface debonding, and fiber fracture. The shear-lag model was used to describe the microstress field of the damaged composite. By combining the shear-lag model with different damage models, the tensile stress–strain curve of cross-ply CMCs corresponding to each damage stage was modeled. The predicted tensile stress–strain curves of cross-ply C/SiC composites agreed with experimental data.