01.01.2015 | Ausgabe 1/2015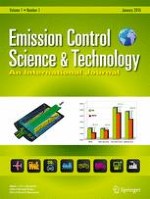 Modeling Urea-Water Solution Droplet Evaporation
Zeitschrift:
Autoren:

Douglas T. Ryddner, Mario F. Trujillo
Abstract
A computational solver has been developed for the calculation of urea-water-solution (UWS) droplet vaporization. It is based on the solution of the mass density, chemical species transport, and energy within the droplet, and it is fully coupled to the jump conditions for species and energy transport at the droplet interface, and the phase-equilibrium conditions. Pressure-volume-temperature relationships and fugacities are predicted using the Peng-Robinson equation of state. The numerical code is validated by testing its ability to resolve the dynamics of internal species and temperature fields during phase change, predict phase equilibrium for UWS and hydrocarbon systems, and predict vaporization for C
7
H
16
, C
7
H
16
/C
10
H
22
, and UWS droplets. Results show that UWS droplet vaporization can be divided into three different phases consisting of (i) temperature rise at nearly constant composition, (ii) overall urea enrichment at nearly constant temperature, and (iii) simultaneous overall heating and urea enrichment of the entire droplet. The third phase is typically characterized by solidification of the gas-liquid interface, producing a urea shell, a state that can potentially lead to micro-explosions. Higher ambient temperatures are shown to promote urea solidification more readily than lower temperatures to the decreasing role of liquid species diffusion with increasing temperature.