2006 | OriginalPaper | Buchkapitel
Modelling and optimization of sails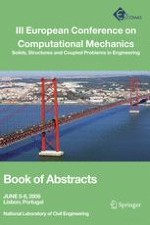 Erstes Kapitel lesen
Autoren: M. Spalatelu-Lazar, F. Léné, N. Turbé
Verlag: Springer Netherlands
The sails fabrication is an old activity principally based on the practice and the experience of sailmakers and users in constant search of performances and safety. The sails design registered a significant development under the impulse of sailing races like America's Cup [
1
]. These competitions require the use of advanced technologies to increase the sails performances: optimization of the fibres orientation, of the weight, of the sails shapes in navigation. The objective of this paper is to shed some light on how to improve the quality and the performances by a control of the fibres orientation calling, for modelling, numerical experimentation and optimization methods.
A sail is a lightweight flexible structure, made up of an assembly of panels, reinforced in its critical points by doublings or straps, and often rigidified by battens [
2
]. The efforts acting on the sails involve significant deformations according to the force of the wind and the nature of sailcloth. The parameters of the problem are thus very numerous, related to the definition of the sail and the loading cases. The sail is modelled here by a triangular membrane, submitted to large displacements and small strains [
3
]. Initial pre-tension load is required [
4
]. The behaviour law of the structure enters in the framework of the linear orthotropic elasticity modelling long fibres materials. The equilibrium equations, formulated on the midsurface, are solved by a modified Newton-Raphson method.
The sailmaker can modulate the mechanical behaviour according to three parameters: the nature of the components, their proportion and the orientation of fibres. The presence of strong stresses zones usually leads to a sail cut-out in pieces with rectilinear fibres of constant orientation. Recent progress in sails fabrication allow the realization of structures with curvilinear supports and variable density rates. It then becomes essential to determine with precision which are, in each point, the orientation and the optimal rate of fibres. The present study is focused on the optimal fibres orientation. The mathematical problem of optimization is related to the displacement in the transverse direction of the sail. The optimization method uses the Nelder-Mead algorithm, efficient to solve non-linear problems. The numerical results are always independent of the initial fibres distribution and of the mesh.