2006 | OriginalPaper | Buchkapitel
Modelling of Flexible Rods Falling in Fluid with Possible Contacts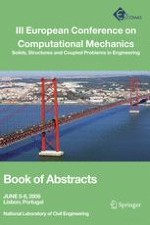 Erstes Kapitel lesen
Autoren: Michal Hajžman, Pavel Polach
Verlag: Springer Netherlands
Practical problems in engineering demand the solution of a wide range of multidisciplinary tasks. One of these branches is nuclear engineering. During the analysis and control of nuclear reactors in nuclear power plants the complex problems are coming out and connect multibody systems analysis with in- fluences of fluid, possible contacts and impacts, seismic excitations and flexibility [
1
]. With respect to different types of nuclear reactors, different control systems composed of various mechanical parts and transmissions can be distinguished. Generally they can be simplified to a typical problem of a long thin rod moving through guide tubes and driven by a motor. The simplest way how to analyze the emergency situation, in which the rod has to drop down and cause the stopping of nuclear reaction, neglects the drive system and analyses the control rod as a falling flexible body in a limited space.
In the first part the paper is focused on the brief description of complex multibody models of real control assemblies used in various real nuclear reactors, which were created in the alaska simulation toolbox. The multibody models are intended for the numerical simulations of the control rods drops, which are the necessary condition for the stopping of nuclear reaction. The complexity of these tasks was the motivation for a deeper theoretical study of such system multibody modelling. Thus the second part of this paper deals with the preliminary study of the possible approaches to the modelling of control rods influenced by contacts, flowing water and eventually excited by prescribed kinematic seismic excitation.
The flexible rod performs a large rigid body motion followed by an elastic deformation. The simplified approach, sometimes called a rigid finite element method, is characterized by the artificial division of the flexible body to the set of rigid bodies coupled by massless spring-damper elements. Mass and couplings parameters can be identified from the modal values of the flexible rod. In the second case flexible beam models [
2
] are used to approach the behaviour of the thin rod directly in the dynamic model. The nonlinear Hertzian law is used for the modelling of contact forces. Influences of flowing fluid are involved by the fluid resistance force.
The presented approach can be easily generalized for the complex multibody systems composed of rigid and flexible bodies connected by joints [
2
], [
3
]. Then the whole control assembly system including the motor and the transmissions for the real nuclear reactor can be analyzed.