30.01.2015 | Ausgabe 1/2015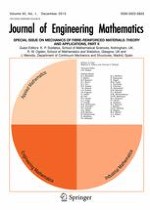 Modelling of tear propagation and arrest in fibre-reinforced soft tissue subject to internal pressure
Zeitschrift:
Autoren:

Lei Wang, Steven M. Roper, X. Y. Luo, N. A. Hill
Abstract
The prediction of soft-tissue failure may yield a better understanding of the pathogenesis of arterial dissection and help to advance diagnostic and therapeutic strategies for the treatment of this and other diseases and injuries involving the tearing of soft tissue, such as aortic dissection. In this paper, we present computational models of tear propagation in fibre-reinforced soft tissue undergoing finite deformation, modelled by a hyperelastic anisotropic constitutive law. We adopt the appropriate energy argument for anisotropic finite strain materials to determine whether a tear can propagate when subject to internal pressure loading. The energy release rate is evaluated with an efficient numerical scheme that makes use of adaptive tear lengths. As an illustration, we present the calculation of the energy release rate for a two-dimensional strip of tissue with a pre-existing tear of length
\(a\)
under internal pressure
\(p\)
and show the effect of fibre orientation. This calculation allows us to locate the potential bifurcation to tear propagation in the
\((a,p)\)
plane. The numerical predictions are verified by analytical solutions for simpler cases. We have identified a scenario of tear arrest, which is observed clinically, when the surrounding connective tissues are accounted for. Finally, the limitations of the models and further directions for applications are discussed.