2017 | OriginalPaper | Buchkapitel
Modelling Space-Time-Action Modularity and Evolution of Living Systems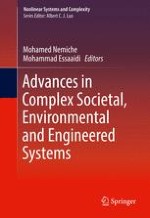 Erstes Kapitel lesen
Autor: Pierre Bricage
Abstract
We proposed a set of principles (Tables 1, 2, 3) based on the observation that all life forms are sustained by hierarchical juxtaposed and embedded networks (Fig. 1):
ecoexotope and endophysiotope
, with invariant properties:
gauge invariance of Life
(Fig. 2). Life is the most complex physical based phenomenon in the Universe, with a diversity of forms and functions over 62 orders of magnitude, from the Planck quantum level up to the whole Universe, and more…, that obeys
the ARMSADA paradigm
(La Violence. Colloque AFSCET, Andé, 7 p., 2000b; Vers une nouvelle systémique, Colloque AFSCET, Andé, 34 pp., 2010b). Many of the most fundamental phenomena scale with size according to power-laws (Paper presented at the international Colloque 150 ans après Darwin, 70 ans après Teilhard: Lire l'évolution, Paris, 109 pp., 2009a). In a surprisingly simple fashion, times (measured by the adult age of first reproduction: the time of generation
tg
) and sizes (measured by the volume at the growth phase ending: the adult 3D dimension
VA
) scale with
a power-law of exponent 3/2
(Fig. 7). The universality and simplicity of this fractal relation (Fig. 8) suggests that a fundamental universal principle of exchange of matter and energy, the Brownian motion (Fig. 9), underlies the organization of all living systems (Fig. 6): the Life's periodic Table of organization (Thermodynamique du changement, Colloque AFSCET, Andé, 63 pp., 2013a, Keynote World Conference on Complex Systems, Agadir, Morocco, 16 pp., 2014e, Revista Internacional de Sistemas 19:05–33, 2014f)!