2017 | OriginalPaper | Buchkapitel
49. Models in Pedagogy and Education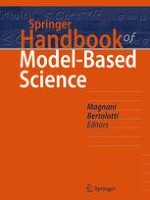 Erstes Kapitel lesen
Autor: Flavia Santoianni
Verlag: Springer International Publishing
Abstract
Pedagogy is a discipline concerned with theories and practices of education. Its epistemological model is complex. It may be considered as qualified by two structural directions:
pluralism
and
dialecticity
.
The pluralism of pedagogy is represented by its possible theoretical routes, by the different levels of sharing of disciplinarity and by a multiplicity of aspects. It involves empirical and experimental research, historical and philosophical dimensions, and epistemological and metatheoretical lines. The theoretical plurality of pedagogy concerns subjects, ages and places of education, languages and research methods, and actual directions and interpretative issues. The multidisciplinary plurality of pedagogy distinguishes it in pedagogical sciences, educational sciences, and educational developmental sciences. The disciplinary multiplicity of pedagogy is expressed by the diversity of pedagogical sciences that belong to general pedagogy. Even if pedagogical sciences are multiple, social pedagogy, history of pedagogy and special needs education are disciplines specifically related to the field of pedagogy.
The dialecticity of pedagogy expresses its controversial nature divided between science and philosophy. The scientific approach to pedagogy evolves from systematicity to complexity. It develops, namely, in parallel with the construction and the reconstruction of the very idea of science. The systematization of educational sciences strengthens the philosophical role of pedagogy. The so-called
identity crisis
of pedagogy will bring it to rediscover the sense of its own reflexive intentionality. The relationship between theory and practice makes pedagogy a science of education, in particular a theory of educational development processes.