11.02.2017 | Ausgabe 9-10/2017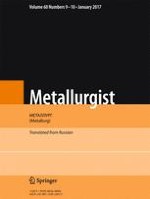 Modernization of Railroad Wheel Manufacturing Technology at Evraz Ntmk
Zeitschrift:
Autoren:

A. V. Kushnarev, A. A. Kirichkov, A. A. Bogatov, S. S. Puzyrev
Wichtige Hinweise
Translated from Metallurg, No. 10, pp. 72–78, October, 2016.
Results are provided for a study of the production process for manufacturing railroad wheels aimed at a reduction in metal consumption coefficient, material and energy expenditure, an increase in stability of quality characteristics, and wheel life. At the EVRAZ NTMK combine, comprehensive broad scale work is carried out, and new engineering solutions are found and introduced for converter processing and steel extra-furnace treatment for preparation of an ingot in a CBCM, and new production schemes are assimilated for deformation treatment during stamping, rolling, bending, straightening, and wheel sizing. As a result of combined operation of upsetting, flattening, and sizing of a billet in the preliminary stamping stage and also the use of a method for self-centering of a stamping in final forming dies, an increase is provided in the precision of a rough wheel and a reduction in original billet weight. A high level of automation and metrological provision for the production process of the pressing and rolling line, make it possible to accomplish adjustment of parameters in a real time regime and to minimize scrap. Stiffening of specifications with respect to wheel heating temperature for hardening and use of rational cooling rates for the wheel rim in quenching benches facilitates assimilation of production of hard (320 HB) and especially hard (350 HB) wheels with stable qualities. Operating properties of railroad wheels improve by a factor of 1.5, including due to introduction of complete profile machining of a wheel, shot-peening strengthening of a disk, and toughening ultrasonic and magnetic luminescence monitoring for quality.