18.05.2018 | Paper | Ausgabe 5/2018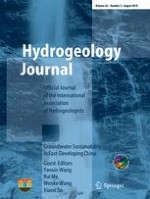 Modes, hydrodynamic processes and ecological impacts exerted by river–groundwater transformation in Junggar Basin, China
Zeitschrift:
Autoren:

Wenke Wang, Zhan Wang, Rongzhe Hou, Longyao Guan, Yan Dang, Zaiyong Zhang, Hao Wang, Lei Duan, Zhoufeng Wang
Wichtige Hinweise
Published in the special issue "Groundwater sustainability in fast-developing China"
Abstract
The hydrodynamic processes and impacts exerted by river–groundwater transformation need to be studied at regional and catchment scale, especially with respect to diverse geology and lithology. This work adopted an integrated method to study four typical modes (characterized primarily by lithology, flow subsystems, and gaining/losing river status) and the associated hydrodynamic processes and ecological impacts in the southern part of Junggar Basin, China. River–groundwater transformation occurs one to four times along the basin route. For mode classification, such transformation occurs: once or twice, controlled by lithological factors (mode 1); twice, impacted by geomorphic features and lithological structures (mode 2); and three or four times, controlled by both geological and lithological structures (modes 3 and 4). Results also suggest: (1) there exist local and regional groundwater flow subsystems at ~400 m depth, which form a multistage nested groundwater flow system. The groundwater flow velocities are 0.1–1.0 and <0.1 m/day for each of two subsystems; (2) the primary groundwater hydro-chemical type takes on apparent horizontal and vertical zoning characteristics, and the TDS of the groundwater evidently increases along the direction of groundwater flow, driven by hydrodynamic processes; (3) the streams, wetland and terminal lakes are the end-points of the local and regional groundwater flow systems. This work indicates that not only are groundwater and river water derived from the same source, but also hydrodynamic and hydro-chemical processes and ecological effects, as a whole in arid areas, are controlled by stream–groundwater transformation.