29.02.2020 | Original Research | Ausgabe 8/2020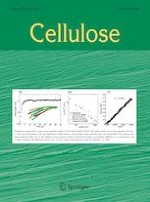 Modification of cellulose nanocrystals by self-assembly nucleation agents to improve poly(L-lactide) nanocomposite' properties
Zeitschrift:
Autoren:

Shengxue Qin, Yanan Hu, Xiujuan Tian, Yang Tian, Weizhi Liu, Lifen Zhao
Wichtige Hinweise
Publisher's Note
Springer Nature remains neutral with regard to jurisdictional claims in published maps and institutional affiliations.
Abstract
The poor thermal stability of cellulose nano-crystals (CNCs) and dispersion in polymer matrices are significant obstacles limiting their applications in modification of polymers, especially during melt processing. The self-assembly nucleation agent, decamethylene dicarboxylic dibenzoyl hydrazide (TMC300), was used to modify CNCs via physical adsorption methods. Because TMC300 adsorbed on the surface of CNCs shields the sulfonate on CNCs, the thermal stability of CNCs was significantly improved. Meanwhile, modified CNCs formed different self-assembly morphologies in confined and unconfined spaces, which influenced the crystallization behaviors and microstructures of poly(L-lactide) (PLLA). It improved the crystallization rate of PLLA, which increased the crystallinities and heat resistances of PLLA/CNC composites. More importantly, the self-assembly nucleation agent induced the shish-kebab structures of PLLA, which enhanced the interfacial structure as mechanically interfacial lock and simultaneously improved tensile strength and toughness. This physical and economical modification method of CNCs is anticipated to take full advantage of CNCs to modify PLLA or other semi-crystalline polymers via melt processing.
Graphic abstract
×