2020 | OriginalPaper | Buchkapitel
Modified Aluminum-Magnesium Oxide Catalysts in the Process of Ethoxylation of Higher Fatty Acid Methyl Esters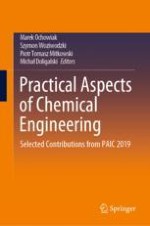 Erstes Kapitel lesen
Autoren: Magdalena Emmons-Burzyńska, Marek Lukosek, Krzysztof Alejski
Abstract
Oxyethylation leads to obtaining nonionic surfactants that are widely used in many branches of industry. The potential hydrophobic raw materials used in this process include, apart from widely used fatty alcohols, also fatty acid methyl esters. Direct oxyethylation of fatty acid methyl esters needs application of a catalyst to activate a hydrophobic substrate or ethylene oxide (Schick
1967
). As the oxyethylated product is a mixture of homologs with polyoxyethylene chains of different length, in order to identify the dominant fraction it is necessary to use the conception of average degree of oxyethylation. Depending on the catalyst used, the range of homologs distribution in the product may vary. However, currently used catalysts allow the synthesis of products in which the main component constitutes max. 30 wt%. mixture of oxyethylates (Alejski et al.
2003a
). The obtained product may contain the ethoxylated derivatives, by-products and unreacted starting material (Alejski et al.
2003b
). For ethoxylated fatty acids methyl esters the by-product may be methyl monoesters of polyoxyethylated glycol and their diesters (Hama et al.
1997a
; Szymanowski
2001
).