2013 | OriginalPaper | Buchkapitel
7. Modified Bacterial Foraging Optimization Technique for Vector Quantization-Based Image Compression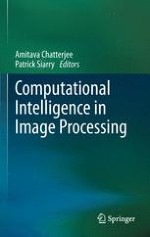 Erstes Kapitel lesen
Autoren: Nandita Sanyal, Amitava Chatterjee, Sugata Munshi
Verlag: Springer Berlin Heidelberg
Abstract
Vector quantization (VQ) techniques are well-known methodologies that have attracted the attention of research communities all over the world to provide solutions for image compression problems. Generation of a near optimal codebook that can simultaneously achieve a very high compression ratio and yet maintain required quality in the reconstructed image (by achieving a high peak-signal-to-noise-ratio (PSNR)), to provide high fidelity, poses a real research challenge. This chapter demonstrates how such efficient VQ schemes can be developed where the near optimal codebooks can be designed by employing a contemporary stochastic optimization technique, namely bacterial foraging optimization (BFO), that mimics the foraging behavior of a common type of bacteria,
Escherichia coli
, popularly known as
E. coli
. An improved methodology is proposed here, over the basic BFO scheme, to perform the chemotaxis procedure within the BFO algorithm in a more efficient manner, which is utilized to solve this image compression problem. The codebook design procedure has been implemented using a fuzzy membership-based method, and the optimization procedure attempts to determine suitable free parameters of these fuzzy sets. The usefulness of the proposed adaptive BFO algorithm, along with the basic BFO algorithm, has been demonstrated by implementing them for a number of benchmark images, and their performances have been compared with other contemporary methods, used to solve similar problems.