17.05.2018 | Energy materials | Ausgabe 16/2018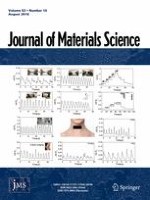 Modulation of oxygen in NiO:Cu films toward a physical insight of NiO:Cu/c-Si heterojunction solar cells
Zeitschrift:
Autoren:

Xueliang Yang, Wei Liu, Guangyou Pan, Yun Sun
Abstract
p-type Cu-doped NiO (NiO:Cu) thin films, a transition metal oxide as hole transport layer material, were fabricated using sputtering technology at a high substrate temperature. It is found that cooling oxygen pressures (
P
c
o2
), with the range of 10
−4
–2 × 10
4
Pa, modulating oxygen vacancies in the films, have an important impact on the property of NiO:Cu films through Ni and Cu oxidization level. The NiO:Cu film with a proper cooling oxygen pressure, 10
3
Pa in this work, reveals high hole concentration and transmittance, leading to a relatively high photovoltaic performance in the NiO:Cu/c-Si heterojunction solar cell. The lack of oxygen, e.g., cooled at oxygen pressure of 10
−4
Pa, reduces Ni
3+
/Ni
2+
and Cu
1+
/Cu
2+
ratio in films, leading to the low hole concentration. The hole concentration is found to be related to open circuit voltage (
V
oc
) and fill factor (FF) in NiO:Cu heterojunction solar cell devices. But the excess of oxygen, e.g., cooled at oxygen pressure of 10
4
Pa, slightly increases Ni
2+
and Cu
2+
content, which is not helpful to the good device performance. The optical band gap of the NiO:Cu film increases with increase in
P
c
o2
. The external quantum efficiencies of the devices are found to be fully consistent with the variation trend of optical properties of NiO:Cu films, which explained the change in short-circuit current (
J
sc
) of the NiO:Cu/Si heterojunction solar cells. Therefore, this work enlightens a detailed understanding the effect of oxygen on NiO:Cu film photoelectrical properties and provides novel strategies for optimizing NiO:Cu/c-Si heterojunction solar cell performances.