29.03.2017 | Energy materials | Ausgabe 13/2017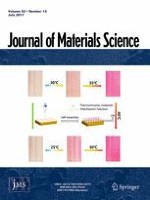 MOF-derived carbon coating on self-supported ZnCo2O4–ZnO nanorod arrays as high-performance anode for lithium-ion batteries
Zeitschrift:
Autoren:

Qingmeng Gan, Kuangmin Zhao, Suqin Liu, Zhen He
Wichtige Hinweise
Electronic supplementary material
The online version of this article (doi:
10.​1007/​s10853-017-1043-4
) contains supplementary material, which is available to authorized users.
Abstract
The C–ZnCo2O4–ZnO nanorod arrays (NRAs), which consist of MOF-derived carbon coating on ZnCo2O4–ZnO NRAs, are rational designed and synthesized via a facile template-based solution route on Ti foil and used as high-performance anode for lithium-ion batteries (LIBs). The uniform coated MOF-derived carbon layers on the ZnCo2O4–ZnO nanorods surface can serve as a conductive substrate as well as buffer layer to restrain volume expansion during charge–discharge process. When tested as anodes for LIBs, the C–ZnCo2O4–ZnO NRAs show high reversible capacity of 1318 mA h g−1 at 0.2 A g−1 after 150 charge–discharge cycles. Furthermore, C–ZnCo2O4–ZnO NRAs also exhibit brilliant rate performance of 886.2, 812.8, 732.2 and 580.6 mA h g−1 at 0.5, 1, 2 and 5 A g−1, respectively. The outstanding lithium storage performance of C–ZnCo2O4–ZnO NRAs could be ascribed to the stimulated kinetics of ion diffusion and electron transport originated from the shortened lithium-ion diffusion pathway and improved electronic conductivity benefit from uniformly coating MOF-derived carbon.