27.12.2017 | Chemical routes to materials | Ausgabe 7/2018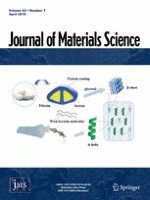 MOF-derived various morphologies of N-doped carbon composites for acetylene hydrochlorination
Zeitschrift:
Autoren:

Xiaoyan Li, Jinli Zhang, You Han, Mingyuan Zhu, Shanshan Shang, Wei Li
Wichtige Hinweise
Electronic supplementary material
Abstract
We reported a novel in situ synthesis of ZIF-8 following carbonization route to modulate the morphology of spherical activated carbon (SAC). It is illustrated that the highly dispersed nanoparticles with the average size about 10.50 nm and bamboo-shaped carbon nanotubes (B-CNTs) with the average diameter of 40–80 nm were appeared on the surface of the modified SAC. Such modified SAC showed superior catalytic performance toward acetylene hydrochlorination, with the highest acetylene conversion of 81% and the selectivity to VCM above 99%. The enhanced catalytic performance is attributed that the highly dispersed ZIF-8-derived nanoparticles can easily generate more active sites, which can efficiently access to the reactants of hydrogen chloride and acetylene in acetylene hydrochlorination. Additionally, B-CNTs change the porosity of the materials, which inhibits the formation of coke deposition. TPD and TGA analysis results also prove that the optimal 17% ZIF-8/SAC catalyst can not only enhance the adsorption of reactants, but also inhibit the adsorption of product, resulting in the decrease in the amount of coking deposition. Such synthetic approach is promising to be applied in morphological modulation of other porous materials.