2018 | OriginalPaper | Buchkapitel
Mohr-Coulomb Criterion-Based Theoretical Solutions for Borehole Contraction in the Anisotropic Initial Stress Condition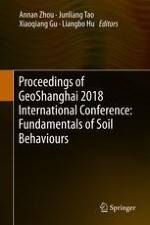 Erstes Kapitel lesen
Autoren: Chun-Feng Zhao, Yi Fei, Cheng Zhao, Shang-Hua Jia
Verlag: Springer Singapore
Abstract
Solutions for cavity contraction are used widely in tunnel engineering but rarely in bored pile foundation which is a three dimensional problem. Traditional cavity contraction theory are based on the isotropic initial stress supposition (i.e. the lateral pressure coefficient
K
0
= 1.0). However, the
K
0
of the soil is not equal to 1.0 actually. In this paper, based on the Mohr-Coulomb yield criterion and the associated flow rule, the analytic solution for stress and displacement fields of borehole contraction considering
K
0
was deduced. The relationship between the initial borehole radius
a
, the contracted radius
a
0
, the plastic zone II radius
r
p
and the internal pressure
p
is also analyzed, result shows that the
a
0
is a function of
a
,
r
p
and
p
. In addition, using the curves of the plastic zone radius and the stress fields versus borehole depth, the influence of the internal pressure
p
and the lateral pressure coefficient
K
0
, and the internal friction angle
ϕ
are discussed. It shows that
p
and
ϕ
have great influence on the plastic zone radius and the borehole wall stress, while the effect of
K
0
on the borehole wall stress is limited and mainly focuses on the upright part of the borehole. It can be illustrated that traditional solutions based on the assumption of
K
0
= 1.0 underestimated the plastic zone field while overestimated the stress around the cavity. Moreover, it should be noted that the effect of
r
p
on the stress and displacement around borehole is non-negligible. This paper consummates the borehole contraction in bored pile foundation.