07.11.2016 | Original Article | Ausgabe 2/2017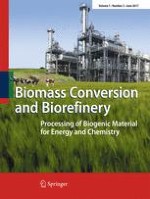 Moisture effect on fluidization behavior of loblolly pine Wood grinds
Zeitschrift:
Autoren:

G Olatunde., O Fasina., T McDonald., S Adhikari., S Duke.
Abstract
The impact of moisture content (MC of 8 to 27 % wet basis) on physical properties (particle size distribution, average size using Feret, chord, Martins, surface-volume, and area diameter measurement schemes, bulk density, and particle density), fluidization behavior, and minimum fluidization velocities (
U
mf
) of loblolly pine wood grinds were studied. A new correlation for predicting the
U
mf
of loblolly pine wood grinds at different moisture contents was also developed. Results showed that bulk density, particle density, and porosity of grinds were significantly affected by increase in MC (
p
< 0.05). Diameter of the grinds measured using Feret measurement scheme was consistently the highest while those measured by surface-volume scheme were consistently the lowest with the measured Feret-based diameter about three times the surface-volume based diameters. Particle size data showed that variations in sizes of particle within a sample reduced with increase in MC (coefficient of variation value was 90 at 8.45 % MC and 40 at 27.02 % MC). Generally, as MC increased, the minimum fluidization velocity values increased. The minimum fluidization velocity (U
mf
) was found to be 0.2 m/s for 8 % MC, 0.24 m/s at 14.86 % MC, 0.28 m/s at 19.86 % MC, and 0.32 m/s for 27.02 % MC. The correlation developed predicted the experimental data with mean relative deviation that was less than 10 %.