01.01.2015 | Ausgabe 6/2015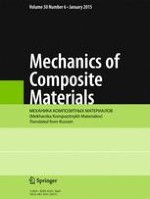 Moisture Sorption of Epoxy Composites Reinforced with Aligned and Notched Triangular Bars
Zeitschrift:
Autoren:

B. B. Pajarito, M. Kubouchi
Wichtige Hinweise
Russian translation published in Mekhanika Kompozitnykh Materialov, Vol. 50, No. 6, pp. 1101-1118 , November-December, 2014.
Moisture diffusion in acid anhydride-cured epoxy matrices reinforced with aligned and notched triangular bars has been investigated. The reinforcing bars were first treated with molded and cured vinyl ester resin before their manual assembling. Gravimetric experiments were performed on epoxy composites fully immersed in water at 80°C for 1200 h. Weight uptake curves showed that the composites had suffered limited material degradation after an initial stage of moisture sorption; another sorption stage was observed after this degradation phase. Based on the initial sorption stage, the moisture diffusion behavior in composites is found to be independent of the orientation and alignment of reinforcing bars. This result is confirmed by transient 3D finite-element simulations. The numerical results are in close agreement with experimental data for the initial sorption stage.