01.10.2011 | Ausgabe 5/2011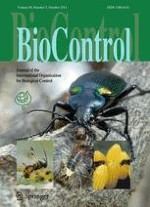 Molecular characterization of
Psyttalia lounsburyi

, a candidate biocontrol agent of the olive fruit fly, and its

Wolbachia

symbionts as a pre-requisite for future intraspecific hybridization
Zeitschrift:
Autoren:

Sandrine Cheyppe-Buchmann, Marie-Claude Bon, Sylvie Warot, Walker Jones, Thibaut Malausa, Xavier Fauvergue, Nicolas Ris
Wichtige Hinweise
Handling Editor: Dirk Babendreier
Abstract
Numerous arthropod species are genetically differentiated across their distribution area. Diversifying the geographical origins of a biocontrol agent species can be used to favour their perennial establishment by the sampling of pre-adapted genotypes and/or the production of new genotypes through hybridization. Hybridization can be nevertheless challenged by reproductive isolations induced by some common microbial endosymbionts. In this study, we aimed at characterizing (i) the genetic diversity of six populations of
Psyttalia lounsburyi
(Hymenoptera: Braconidae), a candidate biocontrol agent of the olive fruit fly
Bactrocera oleae
(Diptera: Tephritidae) and (ii) the diversity of their
Wolbachia
endosymbionts. Both mitochondrial and microsatellite markers evidence clustering between the South African population and several Kenyan/Namibian populations. The survey of the
Wolbachia
also distinguished two main variants with a spatial heterogeneity in the infection status. All these results are discussed in the context of the use of these
P. lounsburyi
populations for hybridization and further field releases.