2016 | OriginalPaper | Buchkapitel
22. Molecular Computing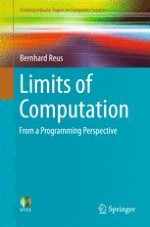 Erstes Kapitel lesen
Autor: Bernhard Reus
Abstract
This chapter is dedicated to molecular computing. Molecular computing uses DNA and molecular biology and chemistry as hardware. Historically, its beginnings are rooted in the attempt to solve
NP
-complete problems efficiently. Those attempts and the overall potential and the major challenges of DNA computing are reviewed. One particular abstract model of molecular computing,
Chemical Reaction Networks
, are introduced in more detail and compared to other notions of computations. The programming techniques for
Chemical Reaction Networks
are very different from traditional approaches presented earlier, as the programmer has no control over the order of reactions executed. A concrete "synthetic chemistry" implementation of this abstract model that uses DNA strand displacement is briefly explained.