2009 | OriginalPaper | Buchkapitel
2. Molecular Tools for Investigating the Gut Microbiota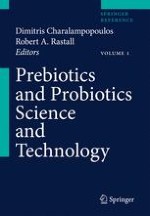 Erstes Kapitel lesen
Autor: Christophe Lay
Verlag: Springer New York
Abstract
The "microbial world within us" (Zoetendal et al.,
2006
) is populated by a complex society of indigenous microorganisms that feature different "ethnic" populations. Those microbial cells thriving within us are estimated to outnumber human body cells by a factor of ten to one. Insights into the relation between the intestinal microbial community and its host have been gained through gnotobiology. Indeed, the influence of the gut microbiota upon human development, physiology, immunity, and nutrition has been inferred by comparing gnotoxenic and axenic murine models (Hooper et al.,
1998
,
2002
,
2003
; Hooper and Gordon,
2001
).