01.09.2013 | Ausgabe 9/2013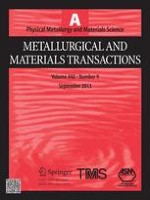 Molybdenum-Nitride Precipitation in Recrystallized and Cold-Rolled Fe-1 at. pct Mo Alloy
Zeitschrift:
Autoren:

H. Selg, E. Bischoff, S. R. Meka, R. E. Schacherl, T. Waldenmaier, E. J. Mittemeijer
Wichtige Hinweise
Manuscript submitted May 30, 2012.
Abstract
Nitriding of recrystallized and cold-rolled Fe-1 at. pct Mo alloy at 853 K (580 °C) in a NH3/H2 gas mixture leads to the formation of cubic nanometer-sized Mo2N-type precipitate platelets. These platelets obey a Baker–Nutting orientation relationship with the ferrite matrix. After prolonged nitriding, micrometer-sized colonies of lamellae consisting of a hexagonal MoN-type nitride and ferrite develop in a discontinuous precipitation reaction. These nitride lamellae have a Burgers-type orientation relationship with the ferrite lamellae. As compared to the recrystallized specimens, in the cold-rolled specimens, the precipitation of the initial Mo2N-type platelets occurs much faster and moreover leads to incoherently diffracting precipitates; upon continued nitriding, a much earlier but only partially occurring transition of Mo2N-type to MoN-type precipitates is observed. The results indicate that incorporation of iron in the nitrides can occur, if at all, only up till a negligible level, thereby invalidating earlier data.