01.03.2015 | Ausgabe 2/2015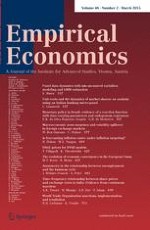 Monetary policy in Brazil: evidence of a reaction function with time-varying parameters and endogenous regressors
Zeitschrift:
Autoren:

Edilean Kleber da Silva Bejarano Aragón, Gabriela Bezerra de Medeiros
Abstract
This paper estimates a forward-looking reaction function with time-varying parameters to examine changes in the Brazilian monetary policy under the inflation-targeting regime. As the monetary policy rule has endogenous regressors, the conventional Kalman filter cannot be applied. Thus, the two-step procedure proposed by Kim and Nelson (J Monet Econ 53:1949–1966,
2006
) is used for consistent estimation of the hyper-parameters of the model. The results indicate that the reaction function parameters of the Central Bank of Brazil are time-varying and that the regressors of that function are endogenous. Besides, we observed that: (i) the monetary policy interest rate (Selic rate) responses to current inflation and the inflationary expectations present considerable changes and have diminished with the passing of time; (ii) since mid-2010, policy rule has violated the Taylor principle; (iii) the implicit target for the Selic interest rate has shown a decline over time; and (iv) the degree of interest rate smoothing has shown a relative stability. Finally, the policy instrument response to the output gap presents an increasing trend over the 2010–2011 period.