2010 | OriginalPaper | Buchkapitel
Monitoring Service Level Agreements in Grids with support of a Grid Benchmarking Service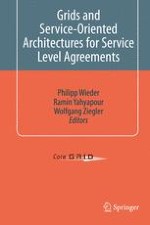 Autoren: Ely de Oliveira, Franz-Josef Pfreundt
Verlag: Springer US
As Computational Grids become more popular, a new generation of grid applications emerges, demanding strict and increasingly sophisticated guarantees of quality of service. This challenge has motivated the development of numerous technologies to enable service providers and consumers to establish Service Level Agreements (SLAs). The implementation of SLAs requires mechanisms for these agreements to be monitored and enforced, so that they can be dependable.
Most of existing SLA monitoring techniques are embedded in particular SLA specification, negotiation and management mechanisms. This poses significant limitations for their adoption in large scale, heterogeneous, decentralized grid infrastructures.
In this paper, we present how SLAs can be assessed, monitored and enforced with support of Jawari, a multi-platform, extensible and free of charge grid benchmarking service. Jawari works as an independent external entity that validates the adherence of the grid components to committed SLAs, by simply using the grid services just like an end-user would do. Doing so, it is able to observe the actual levels of quality of service the end-users are likely to experience.
Its benchmarks represent classes of grid applications with distinct requirements that expose the grid services to scenarios where the SLA is expected to be observed. Complementarily, SLA violation conditions can be routinely checked, and proper actions taken in response.