10.05.2020 | Ausgabe 6/2020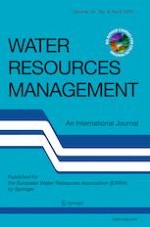 Monthly Operation Optimization of Cascade Hydropower Reservoirs with Dynamic Programming and Latin Hypercube Sampling for Dimensionality Reduction
Zeitschrift:
Autoren:

Zhong-kai Feng, Wen-jing Niu, Zhi-qiang Jiang, Hui Qin, Zhen-guo Song
Wichtige Hinweise
Publisher's Note
Springer Nature remains neutral with regard to jurisdictional claims in published maps and institutional affiliations.
Abstract
The dimensionality problem is posing an enormous challenge for cascade hydropower reservoirs operation because the memory usage and execution time grow exponentially with the expansion of system scale. To effectively address this problem, this paper develops a novel Latin dynamic programming algorithm for dimensionality reduction in hydropower reservoir operation problem, where the Latin hypercube sampling method is firstly adopted to produce a subset of discrete state variables at each stage, and then the standard dynamic programming recursive equation is used to search for a modified trajectory around the newly-generated solutions, while the iterative search strategy is used to gradually enhance the solution quality. The results in a real-world hydropower system of China demonstrate that compared with the standard dynamic programming method, the execution efficiency of the presented method is significantly improved while the power generation is well maintained in different scenarios. Hence, the novelty of the paper is to provide an effective dimensionality reduction tool for solving the complex hydropower operation problem.