2017 | OriginalPaper | Buchkapitel
More or Less Intergovernmental Cooperation Within the New EMU?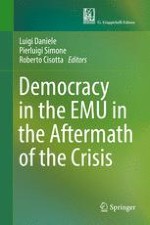 Erstes Kapitel lesen
Autor: Frédéric Allemand
Abstract
This chapter aims to analyse the recent shift in the allocation of powers within the EMU institutional framework. In the words of Angela Merkel, a new Union method is emerging from the Lisbon Treaty. The management of the subprime crisis and sovereign debt crisis gave rise to practical institutional arrangements and the adoption of new secondary law whereby the European Council, as well as the Euro Summit were conferred on new political responsibilities. However, as we argue, this development in intergovernmental cooperation takes place with proper regard for the institutional balance and the complex system for the balancing of powers within the EMU. Following all the crises and reforms, EMU governance is neither more supranational nor more intergovernmental. It is both at once. To our way of thinking, to try to set the two approaches against each other would be a sterile exercise. EMU governance—and, in a broader sense, EU governance—is intergovernmental and supranational. It cannot be otherwise, so long as the EU bears the imprint of a twofold requirement: to achieve unity while respecting diversity.