2018 | OriginalPaper | Buchkapitel
Moroccan Gastronomy as a Key Factor of Tourism Attractiveness in Morocco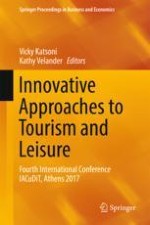 Erstes Kapitel lesen
Autoren: Mohamed El Hafid, Hasnaa El Assri, Aziz Sair
Abstract
In a context of globalization, tourism destinations sustain a fierce competition, they want to develop and strengthen their offer. Thus, attractiveness is increasingly being considered as a crucial factor to their success. In order to earn the biggest market share, these destinations seek to differentiate their product by leveraging key resources and increasing their attractiveness. With 10.3 million tourists in 2016, Morocco succeeded to find its place in the international market by its unique combination of natural, cultural and human capital. However, this number does not reflect the real capacity of the destination. Morocco is a rich country by its heritage and cultural diversity. In fact, the Moroccan gastronomy could play an important role in supporting the attractiveness of the destination. The current research aims to identify the position of the Moroccan gastronomy in the Moroccan tourism offer. To achieve this objective, as a first we apply the methodology of multivariate analysis which consists to study the attributes related to the Moroccan tourism offer in order to classify them according to the type of travel, and see if the Moroccan gastronomy occupies an important position among the essential attributes that characterize the destination. Second step, we proceed to a comparative study between the results obtained from tourists and those obtained from professionals and researchers in the tourism field. Therefore, this research is guided by the following hypothesis:
The Moroccan gastronomy is a crucial factor in the attractiveness of the destination.

The importance of the Moroccan gastronomy differs according to the type of tourism.

The Moroccan gastronomy is a facultative attribute and does not influence on the attractiveness of the destination.