01.02.2013 | Original Paper | Ausgabe 2/2013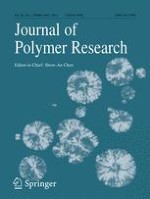 Morphological and thermal properties of nanocomposites contain poly(amide-imide) reinforced with bioactive
N

-trimellitylimido-L-valine modified TiO2 nanoparticles
Zeitschrift:
Autoren:

Shadpour Mallakpour, Elham Nikkhoo
Abstract
Nanoparticles (NPs), such as metal oxides, have a strong tendency to agglomerate, so homogeneous dispersion of these materials in a polymer matrix is desirable. As a result to overcome this problem and to enhance the filler-polymer interaction, it is better to functionalize the surface of NPs. In this study we describe the synthesis and characterization of novel poly(amide-imide)/TiO
2
nanocomposites (PAI/TiO
2
NCs). At first, the surface of TiO
2
NPs was modified by
N
-trimellitylimido-L-valine as a bioactive coupling agent. Modification by this linker causes that, the obtained TiO
2
NPs become environmentally friendly. Thereafter, NCs of modified TiO
2
and PAI were synthesized by means of an ultrasonic technique. PAI as a source of polymer matrix was synthesized by direct polycondensation reaction of
N
-trimellitylimido-L-valine with diaminediphenylsulphone in the presence of triphenyl phosphite and the molten tetra-
n
-butylammonium bromide. By the insertion of surface modified TiO
2
NPs into the polymer matrix, a considerable improvement of thermal property was achieved which was examined using thermogravimetric analysis. The structure and morphology of resulting NCs with 5 %, 10 % and 15 % TiO
2
NPs were characterized by Fourier transform IR spectroscopy, X-ray diffraction, Field emission scanning electron microscopy and transmission electron microscopy. The optical properties of the NCs were studied using ultraviolet–visible spectroscopy.