01.06.2015 | Short Communication | Ausgabe 6/2015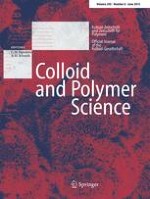 Morphological changes in polymer giant vesicles by intercalation of a segment copolymer as a sterol model in plasma membrane
Zeitschrift:
Autor:

Eri Yoshida
Abstract
The morphological changes in polymer giant vesicles comprised of amphiphilic poly(methacrylic acid)-
block
-poly(methyl methacrylate-
random
-methacrylic acid), PMAA-
b
-P(MMA-
r
-MAA), were explored in the presence of a P(MMA-
r
-MAA) segment copolymer as the model for sterols in plasma membranes for the purpose of inventing a new biomembrane model using the polymer vesicles. PMAA-
b
-P(MMA-
r
-MAA) produced spherical vesicles with a 2.5-μm diameter by the photopolymerization-induced self-assembly in the absence of the segment copolymer in an aqueous methanol solution. The block copolymer formed a planar bilayer in the presence of the segment copolymer that had the MMA/MAA ratio and length identical to those of the hydrophobic block composing the amphiphilic random block copolymer. The thermal analysis demonstrated that the segment copolymer was completely intercalated between the hydrophobic block chains forming the vesicle cores. This intercalation disordered the vesicle surface of the hydrophilic PMAA blocks and decreased the crystallinity of the hydrophilic block chains.