01.06.2011 | Original Contribution | Ausgabe 8/2011 Open Access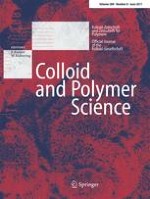 Morphology and photoluminescence study of titania nanoparticles
Zeitschrift:
Autoren:

Mine Memesa, Sebastian Lenz, Sebastian G. J. Emmerling, Sebastian Nett, Jan Perlich, Peter Müller-Buschbaum, Jochen S. Gutmann
Abstract
Titania nanoparticles are prepared by sol–gel chemistry with a poly(ethylene oxide) methyl ether methacrylate-
block
-poly(dimethylsiloxane)-
block
-poly(ethylene oxide) methyl ether methacrylate triblock copolymer acting as the templating agent. The sol–gel components—hydrochloric acid, titanium tetraisopropoxide, and triblock copolymer—are varied to investigate their effect on the resulting titania morphology. An increased titania precursor or polymer content yields smaller primary titania structures. Microbeam grazing incidence small-angle X-ray scattering measurements, which are analyzed with a unified fit model, reveal information about the titania structure sizes. These small structures could not be observed via the used microscopy techniques. The interplay among the sol–gel components via our triblock copolymer results in different sized titania nanoparticles with higher packing densities. Smaller sized titania particles, (∼13–20 nm in diameter) in the range of exciton diffusion length, are formed by 2% by weight polymer and show good crystallinity with less surface defects and high oxygen vacancies.