01.04.2015 | Ausgabe 2/2015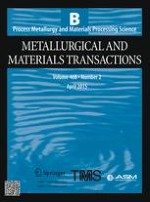 Morphology Control for Al2O3 Inclusion Without Ca Treatment in High-Aluminum Steel
Zeitschrift:
Autoren:

Shengping He, Gujun Chen, Yintao Guo, Boyi Shen, Qian Wang
Wichtige Hinweise
Manuscript submitted March 1, 2014.
Abstract
Nozzle blockage is a major problem during continuous casting of Al-containing steel. Herein, we analyzed the thermodynamic equilibrium behavior between aluminum and oxygen in steel at 1873 K (1600 °C) and demonstrated that, the dissolved [O] initially decreases with increasing the dissolved [Al] until approximately 0.1 wt pct [Al], and after that, the dissolved [O] increases with dissolved [Al]. Thus, for high-aluminum steel with 1.0 wt pct dissolved [Al], the precipitation of Al2O3 inclusion can be avoided during cooling from deoxidation temperature to the liquidus temperature, if the actual dissolved [O] can be kept from increasing when the dissolved [Al] further increases from 0.1 to 1.0 wt pct. Hence, a method of inclusion control for high-aluminum steel without traditional Ca treatment technology was proposed based on the thermodynamic analysis. Industrial tests confirmed that low-melting point Ca-aluminate inclusions were observed typically through a slag washing with SiO2-minimized high-basicity slag during tapping, accompanied by two-step Al-adding process for production of high-aluminum steel. Moreover, there was no nozzle clogging occurred for five heats of continuous casting.