2016 | OriginalPaper | Buchkapitel
Moving from Patterns to Processes: A Challenge for the Phytosociology of the Twenty-First Century?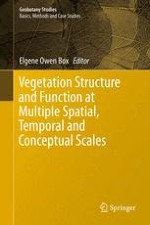 Erstes Kapitel lesen
Autor: Guillaume Decocq
Abstract
Phytosociology and ecology are often viewed as two distinct scientific disciplines though both emerged from phytogeography in the second half of the nineteenth century. Here we propose an epistemological essay of the "science of plant communities" in which the reasons behind the divergence between phytosociology and ecology are analyzed. While ecology incorporated the progress made by life chemistry, making ecology more functional than descriptive, syntaxonomy and synsystematics rapidly made phytosociology an esoteric science and contributed to the conflicts among the different European schools. As animal ecology began to develop ecology became "the science of ecosystems", a field of biology, phytosociology stayed closer to geography. However, with the emergence of the integrated synusial method, phytosociology began to re-connect with ecology, by taking into account functional considerations provided by general system theory, hierarchy theory and landscape ecology. We stress on three challenges that phytosociology should meet to find its niche in plant ecology: being more functional; incorporating recent advances in dispersal vs. niche assembly rules; and withdrawing old-fashioned, static concepts such as the climax. The future of phytosociology includes providing ecology with high-quality field data through its robust methodology, but perhaps with a more process-oriented sampling strategy. In this respect, the integrated synusial approach is inherently better suited to serve ecology by reflecting the complexity of plant communities in both space and time.