2011 | OriginalPaper | Buchkapitel
14. Multi-agent Modeling of Economic Innovation Dynamics and Its Implications for Analyzing Emission Impacts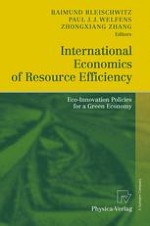 Erstes Kapitel lesen
Autoren: Frank Beckenbach, Ramón Briegel
Verlag: Physica-Verlag HD
Abstract
Undoubtedly many of the observable impacts on ecological systems (e.g. depletion of minerals and species, emissions and waste) can be derived from economic activities. But the relationship between the two is far from being fully clarified in scientific analysis. Either the focus on this impact perspective and/or lack of economic knowledge often leads to a specific framing of economic analysis in this environmental context:
Firstly
, only economic aggregates (like gross domestic product) and their dynamics are considered;
secondly
, this analysis is normally carried out by using computable modeling frame works (like computable general equilibrium models). What is missing in such a framework is a realistic consideration of the microeconomic foundation for the driving forces of economic processes. To assume a representative optimizing agency is not sufficient in this context because neither behavioral constraints (in terms of information processing and knowledge acquisition) nor non-linear interaction effects between economic actors can be taken into account by making this assumption. A realistic view on the microeconomic background of observable economic aggregates is not only important for explaining the (aggregate) economic output itself, it is also essential for assessing the possibilities and constraints for political regulation.