2012 | OriginalPaper | Buchkapitel
8. Multi-Hazard Early Warning System in Japan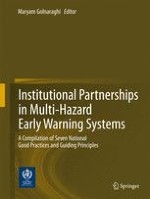 Erstes Kapitel lesen
Autoren: Naoyuki Hasegawa, Satoshi Harada, Shotaro Tanaka, Satoshi Ogawa, Atsushi Goto, Yutaka Sasagawa, Norihisa Washitake
Verlag: Springer Berlin Heidelberg
Abstract
Japan is located on the "Pacific Ring of Fire" where seismic and volcanic activity is high. As a result, the country has a relatively large number of earthquakes and volcanoes in relation to the very small area of its territory which occupies only 0.25% of the world's land mass. Due to its geographic, topographic and meteorological conditions, Japan is also prone to natural disasters such as typhoons, torrential rains and heavy snow.
The impact of natural disasters can be considered to be determined by two factors. One is a natural factor – the magnitude of natural phenomena (e.g. the scale and intensity of earthquakes and typhoons). The other is a social factor – vulnerability to hazards than can cause disasters. While it is almost impossible for people to control the natural factor, the social factor can be controlled or modified by human intervention. Consequently, Japan has made a special effort to reduce society's vulnerability to disasters since the end of the World War II. In order to reduce Japanese society's vulnerability to disasters and enhance its ability for disaster countermeasures, Japan has established and strengthened a disaster prevention scheme, undertaken protective measures, enhanced weather forecast technology, and installed communications infrastructure to disseminate disaster prevention information, based on lessons learnt from disasters that have occurred almost every year.
The basic scheme for disaster prevention in Japan was established following the Ise-wan Typhoon in 1959, which resulted in more than five thousands victims. Comprehensive disaster countermeasures were established and implemented based on the Disaster Countermeasures Basic Act, enacted in 1961 just after the Ise-wan typhoon disaster. Subsequent to the Ise-wan typhoon disaster, Japan did not experience any disasters which resulted in more than a thousand victims until 1995 when the Great Hanshin-Awaji Earthquake occurred. This earthquake not only caused more than six thousand casualties but also resulted in complete and unprecedented paralysis of urban cities. After the earthquake, Japan modified its various Acts and plans, established new systems and reinforced initial response capability for disaster prevention. In particular, observation systems that can accurately detect disaster risks in real-time have been progressively improved in order to establish early warning systems that facilitate the early evacuation of residents and the response activities of disaster management organizations, thereby reducing disaster damage. Organizations involved in disaster reduction, particularly the Japan Meteorological Agency (JMA), use 24-hour systems to carefully monitor various natural phenomena and weather conditions. In addition to disseminating observed information related to natural phenomena, the JMA also issues a wide range of forecasts, warnings and advisories regarding severe weather events, earthquake ground motions, tsunamis and volcanic eruptions.