2012 | OriginalPaper | Buchkapitel
6. Multi-Hazard Early Warning System of the United States National Weather Service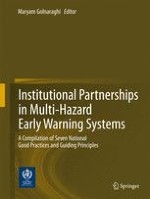 Erstes Kapitel lesen
Autoren: Harold 'Jim' Keeney Jr., Steve Buan, Laura Diamond
Verlag: Springer Berlin Heidelberg
Abstract
The United States began to develop its national early warning system in the late 1940s as part of the post-war effort to invest in reducing the impact of tropical cyclones, flooding, tornadoes, drought, winter storms, severe hail and wind, tsunamis and other hazards that threatened its citizens. Initial steps included the erection of a network of weather surveillance radars, the creation of regional river forecast centers and the development of a comprehensive, multi-agency emergency broadcast system. Those initiatives were followed by the creation of the National Response Framework, the Incident Command System, the multi-channel Emergency Alert System, and policies at the federal, state and local level that promoted broader hazard awareness, risk reduction and emergency preparedness.
The National Oceanic and Atmospheric Administration's National Weather Service is authorized by statute and Executive Order to forecast and issue alerts and warnings associated with hydrometeorological events as well as tsunamis. This mission is achieved through dedicated, long-term partnerships with other federal agencies (most notably the United States Geological Survey, United States Army Corps of Engineers, and the Federal Emergency Management Agency), which leverage the expertise and infrastructure throughout the Federal Government. Simultaneously, the National Science Foundation and other federal and state-level funding sources promote university-led advancements in early warning methods and technology and training of young engineers, hydrologists, meteorologists, computer scientists, etc.
While the various hazard-specific early warning systems in the United States were not originally designed as a part of a single, multi-hazard system, they share common elements and are linked with the country's varied emergency response systems. The National Response Framework guides the institutional coordination and cooperation associated with planning and response to major emergencies. Specific capabilities have been developed to address threats from low-probability/high-impact events such as tsunamis, tropical cyclones, earthquakes, volcanoes, and even terrorism.
The Federal Emergency Management Agency (FEMA) of the United States Department of Homeland Security in partnership with dozens of state and local emergency management agencies, 27 federal agencies, the private sector, the American Red Cross and other non-governmental organizations, plays a crucial role in assisting citizens to build, sustain, and improve the Nation's capability to prepare for, protect against, respond to, recover from, and mitigate all hazards. FEMA's coordination and cooperation with partner institutions often dictates the response to major emergency events. No other federal agency has a greater role than FEMA in helping the Nation mitigate and prepare for hazards.
Multi-hazard early warning systems are only as good as their weakest subsystem. Like many other countries, the United States has learned that unless its multi-hazard early warning system functions from "end-to-end", avoidable losses and suffering may still occur. Its most spectacular lesson in recent years was Hurricane Katrina – a hazard scenario that was recognized well in advance. The failures in the Nation's early warning system during that event are widely acknowledged to have occurred because of weaknesses in risk awareness, warning/communications, and response, despite strengths in forecasting. Other emergencies, especially major disasters such as Hurricane Andrew (1992), the Great Midwest Flood (1993), the Northridge Earthquake (1994), and the 9/11 Terror Attacks (2001), have inspired improvements in emergency preparedness, risk awareness, and hazard mitigation.
It is not necessary for these lessons to be painfully re-learned by others around the world. The National Weather Service hopes that this document improves global understanding in the good practices of institutional coordination and cooperation as they relate to multi-hazard early warning systems.