01.03.2014 | Ausgabe 1/2014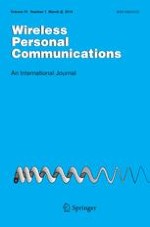 Multi-hop Multi-band Intelligent Relay-Based Architecture for LTE-Advanced Multi-hop Wireless Cellular Networks
Zeitschrift:
Autoren:

Hrishikesh Venkataraman, Dipesh Gandhi, Vikrant Tomar
Abstract
In recent years, the cellular spectrum has become very crowded due to the tremendous success of mobile communications. However, a large portion of the electromagnetic spectrum assigned to other services is used sporadically only. A first step towards cognitive radio can be implemented in LTE-advanced networks by sensing the available frequencies and exploiting the existing radio spectrum opportunistically in order to improve its utilization. In this paper, novel multi-hop multi-band intelligent (MMI) radio architecture is proposed for LTE-advanced cellular networks that would make use of a number of intelligent gateways in order to enable simultaneous usage of spectrum resources within the same cell. It relies on a multi-band network model with increasing number of channels which exponentially reduces the time required for resource allocation. Importantly, an analytical model has been proposed to describe the effects of fading on optimum position of gateway. This model was found to have a very close match with the simulation results, in the calculation of mean, standard deviation and the statistically carried out
\(t\)
tests. Further, the two-hop architecture provides a significant increase in the system capacity. With nine bands and 50 nodes in the network, the MMI based two-hop design provides up to 150 % higher than that offered by a single-hop cellular design and with up to 40 % higher than when a state-of-the-art two-hop routing technique is employed.