Erschienen in: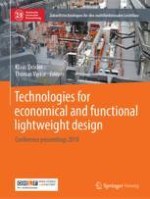 2019 | OriginalPaper | Buchkapitel
MULTI MATERIAL DESIGN. A CURRENT OVERVIEW OF THE USED POTENTIAL IN AUTOMOTIVE INDUSTRIES
Multi material design represents the current forefront of the lightweight design trend for automotive mass production. The combination of different materials (such as metals and fiber reinforced composites) can be used to improve components in terms of various requirements (component properties, manufacturability, costs, etc.). With the reduction of component weight, low costs and feasibility in mass production, hybrid design approaches are the ideal compromise for the mass automotive lightweight construction of the future. However, there is currently no selection strategy for a specific definition of potential hybrid component areas. The basis for developing a selection strategy for potential vehicle sections in multi material design is a comprehensive overview of current examples. The acquisition and analysis of more than 150 components from the automotive industry and research make it possible to identify the main implementation features and drivers of hybrid design in automotive engineering. This contribution shows that the potential of hybrid design approaches in vehicle technology can usually be limited to a few arguments, such as cost-efficiency or weight reduction. The article shows that the hybrid design is marketed as an innovation feature. A particularly suitable group of components for the application of hybrid design could only be identified to a limited extent. A statement about the "correct" use of multi material design based on the compilation of current examples could not be identify clearly. This confirms the need for a targeted selection strategy for multi material components or an improvement indicator.